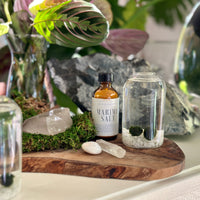 VSOH, Variegated String of Hearts, Ceropegia Woodii, 2 inch
Variegated String of Hearts are easy care and incredibly charming vining succulents. 
Super easy to grow in almost any home, they prefer bright light and do best with morning sunlight or late afternoon exposure but can also tolerate no direct light as well and will hang beautifully in a bright, north facing window.
Water well when soil is dry, less often during the winter months. 
Treat them sweetly with our tonics sprig through fall and you'll be rewarded with tiny pink blooms and thick heart shaped leaves.
*Comes in 2 inch nursery pot