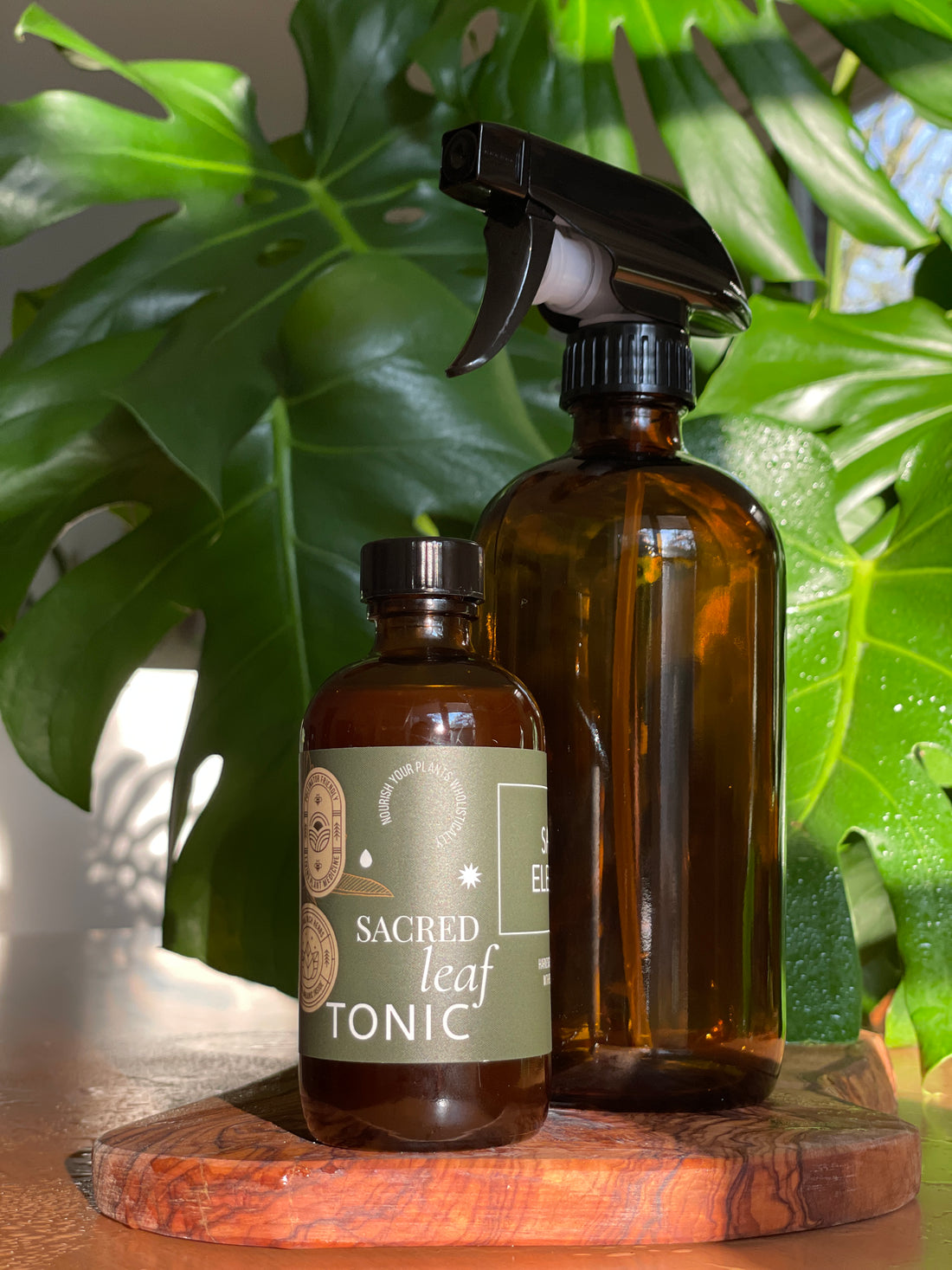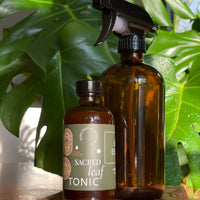 This Sacred Leaf Kit includes: 1 Sacred Leaf Tonic + 1 Amber Glass Spray Bottle (16oz)

Available in 3 sizes:
Mini: Leaf Tonic

 

2oz + Amber Glass Spray Bottle (16oz)
Regular:

 

Leaf Tonic

 

4oz + Amber Glass Spray Bottle (16oz)
Large: Leaf Tonic

 

8oz + Amber Glass Spray Bottle (16oz)
Just add water! 
Sacred Leaf Tonic and Amber Glass Spray Bottle effectively and evenly apply a healthy dose of nourishment to your leaves. Clean, strengthen and protect your plants from infestations in an efficient and practical way!

Sacred Leaf Tonic is a safe and highly effective all-natural liquid foliar tonic for your Houseplants and Garden.
Filled with readily available essential cold-extracted nutrients from organic food-grade herbs and mineral rich plant and algae material, our Sacred Leaf Tonic brings the combined power of a special blend of high quality oils and organic extracts to aid your plants in their vegetative and flowering stages, by stimulating growth and strengthening their leaves, giving them and your space more vitality - and a beautiful glow.

The list of high-end ingredients that make this easy to apply water-soluble concentrate is robust, with Jojoba, Neem and Karanja Oils; Lavender, Lemon Verbena, Rosemary, Cedarwood, Cypress and Frankincense Essential Oils, Citrus Peel Extracts and a base of root strengthening plant-derived Organic Glycerin infused with rich compounds of cold-pressed Neem cake, sustainably sourced Kelp, fresh Aloe, Nettle, Comfrey, Soapnut and more; All to deliver to your plants the care that they deserve in a efficient and practical way, with the added benefits of aromatherapy for you.

For stimulating your plant's innate immune system, the Sacred Leaf Tonic can be used regularly - respecting the natural cycles of your plants, of the earth and of sunlight - to maintain your plant's vitality, as well as to treat and prevent most common houseplant insect and fungal infestations, such as those of Aphids, Mealybugs, White Flies, Rust, Scale, Spider Mites, Powdery Mildew, Fungus Gnats and Thrips. For optimal results, pair with our Sacred Soil Tonic.
Labels are plastic free, made of bio stone. Please reuse your bottle! Thank you for supporting our efforts towards being a zero waste company! 
And to learn more on how to care for your Houseplants, please visit our Community Resources blog page.
---
To Use: SHAKE WELL before using! Add 1/2 teaspoon (2.50ml) of Sacred Soil Tonic per 16oz water OR 4 teaspoons (20ml) per gallon water. Apply* with your own spray bottle or get our Amber Glass Spray Bottle.

*Avoid times of intense light/heat. Spot test and wait 24-48 hours before applying on known sensitive plants.
For more detailed instructions, please check out our FAQs page.

Harnessing the power of plants with respect for our planet.
---