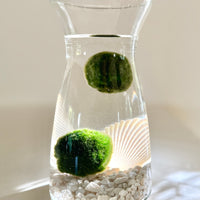 This sweet Water Garden is the perfect place to start your aquatic collection! Each order comes with a glass vase measuring 6.5 inches tall and 3.5 inches wide, hand selected decorative rock/shell/crystal, natural white gravel, and one large marimo. 
*This vessel will beautifully display up to two regular sized marimo or up to three mini marimo, sold separately.
Fits nicely on a desktop or bookshelf with filtered or indirect sunlight. A low maintenance, interesting and easy care addition to any space as it only needs weekly water change and a pinch of salt to stay happily thriving! 
Be sure to grab a bottle of our Marimo Salt to keep your new green friend extra happy! 
All of our Marimo FAQ's are here for you too.